ZINE YOU ZINE ME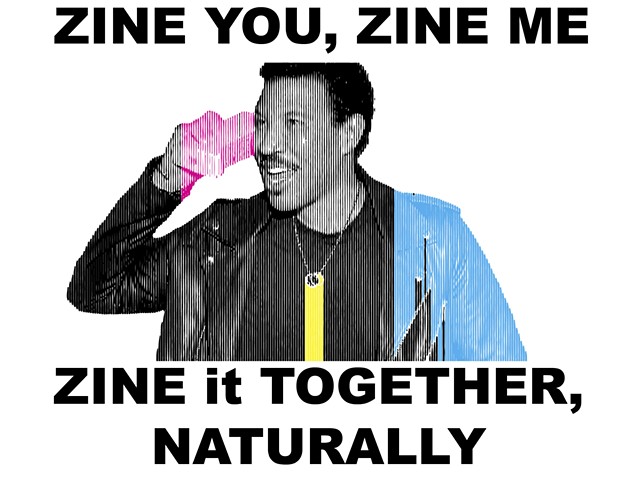 Let's make a zine together!
You design it and I'll print it.
Deal?
Deal.


HOW DOES IT WORK?
We'll be making a little 8 page booklet. You can download the low tech or high tech version of the template below.
Each little book will have a cover page, six interior pages and a back cover. All you have to do is make art or write things in the red rectangles, paying attention to what page number you are on and top/bottom of each rectangle.You might notice that the back cover's red rectangle is smaller, that's because I'll use most of that page for information about who printed the book (me) and who create the art / writing (you). When I print the book it will probably be in one or two colors. So, just keep that in mind. I'll make each zine in an edition of fifteen and I'll mail you some of the finished product.
You can put whatever you want in your book.
Here are some suggestions:
A drawing of your favorite house plant (you know you have a favorite).
A drawing of your pet on their birthday.
Your favorite place to visit.
How you are feeling today.
What you did today.
Where and how you have been spending your time lately.
Favorite quotes.
Least favorite thing about your sibling.
Favorite thing about your sibling.
Favorite frozen food.
A drawing of what you can see from your front window.
What you would tell your great-grandparent about your day.
What you would tell your great-grandchild about your day.
Etc.
Have fun, or just keep track of what your time is like right now, or just scribble in each rectangle, TREAT YO SELF.


LOW TECH _ this is a pdf that you can download, print out and draw on staying inside the red rectangles, then take pictures of each page or scan each page and email to me at amanda dot lee at usu dot edu


HIGH TECH_you can pick an In Design or a PSD file that has a layout for you. The layout is in two layers, the template layer and the "PUT YOUR WORK IN THIS LAYER" layer. Be sure to put your work in that second, aptly named layer. Then send me the ID or PSD file at amanda dot lee at usu dot edu


Love you madly, AL